Monthly Archives:
January 2010
Took a quiz, here's how it went: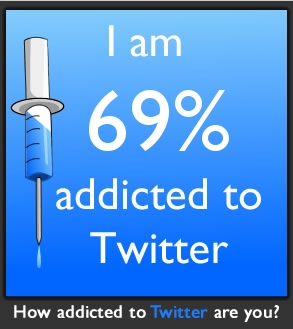 Created by Oatmeal
Well I'm taking off on one of my squeeze-it-in short vacations. Palm Springs drive to meet with mom and stepdad, who are staying with friends, an older gay couple, I believe.
Storms raged through the Phoenix Metro area after two days of rain and everyone got all excited and all – aTwitter
Now it did get pretty windy, and gusts of rain pushed cars across the road a little. I went adrift a little coming home last night and felt the slip and the slide.
SO reviews, guesses, are mixed on how the weather will be on my drive over. Leaving in 50 minutes. A little worried about car holding up but I have had it tuned up recently, with brakes and pads replaced
….. MUSIC will be in the bucket seat!!!


Guess you could take love paranoia a number of ways. they're not two words I put together often. Paranoia is all about worrying what might come to attack you, harass you, beat you, kill you.
Wait a minute …
Unless you're really down on the idea of love and you don't WANT to be loved, it can't do those things.
Paranoia is about being afraid. Love is about facing down fears with renewed strength.
And I wouldn't know either way because the album is in Japanese. But she has a good cold sincerity to her voice.
Sonics Gate is a film that tells the story of how Washington and Seattle government took a hard decision in the face of getting boldface lied to by the new owners of the Seattle Sonics.
Clay Bennett, an Oklahoma businessman, bought the Seattle Supersonics NBA basketball team in 2006 and he pretended to want to engage the city and state governments in a sincere effort to want to stay in Seattle. But he made it fairly clear through his demands that he wanted no such thing.
Subsequent statements revealed through good journalism made his intentions more than clear his intentions. Those statements revealed truth.
I'll know more about Sonics Gate the film when I watch it. I found out about it through Twitter/SonicsGate a few months ago but have never watched it. The group, Seattle Supersonics Historical Preservation Society helped bring the documentary to life.
WATCH WATCH WATCH
Sonicsgate SD Full Version from sonicsgate on Vimeo.
At about 9:45 I heard a knock at my door on a Saturday. As we'd established on my Twitterline just a couple hours before I was up earlier, having fallen asleep in my chair from having not slept the night before. It's a thing I do. I'm about as anxious as man with a brick and a scorpion at his feet. (Not very)
With "Treat Him Good" by the Love Me Nots ringing quietly in the background (I'd turned it down after I heard the knock) I looked through the glass seeing two men in black suits, with thin literature in their hands. I thought they were Mormons having completely forgotten about Jehovah's Witnesses. My roommate had met them last time they came a few months ago and I'm sure talked to them with more Godly knowledge than I.
My relationship with religion goes as deep as my fascination with the people who believe and how they live.
I said I probably didn't have much time to talk. The older guy, Larry, opened the gambit (is that an appropriate phrase here?) pointing to The Watchtower, page 4, saying he wondered why people abused alcohol. He pointed to the scripture there showing that indeed Jesus didn't eschew alcohol having served it at a wedding. But he also pointed to the scripture about not getting drunk.
As he was talking about the benefits of wine ("to make us happy") accorded to us by God (don't want to push people to hard to stop drinking or anything), the phrase "and doctors say a glass of wine is beneficial, too" came to mind and reached my lips – but not my tongue.
Start with a place to create music, The Underdog Studios (their MySpace if you must, it just slows my computer down now)
Mix in a band, The Nadas, I keep on forgetting about who also happen to use the Internet well for livestreaming sessions. Which I've never watched. Can I take a few moments to say a band's Web presence is something I never ever ever ever ever ever ever ever ever ever oh and ever think about. I find music I listen to it. Sure the occasional video, but just no. More of an observation of medium and how it really doesn't have to all coagulate into one big mess all the time.
Multimedia is often just unnecessary sensory overload – a necessity to appeal to as many people as possible, who all respond better to the sound or the look or the visual aesthetics. Necessary for that but for music the sound, the straight skill and joyfulness of the sound, is most important.
***
Read more »
Ok, really to be honest I didn't go to sleep. I can do that often, don't do it often.
But about the time 4 a.m. rolled around I started playing music that started out slow, reflective, wonderful, beautiful to know where I'm playing Ke$ha's Blah Blah Blah and rocking out and rawkus and wonderful and (ok slightly less) beautiful but rocking smokey.
And I'm just about to consider buying Susan Boyle (yup) and Pearl Jam and OK Go's new ones.
Music … Without dissonance it lets my thoughts dance and hookup; those thoughts that develop and are born in the quieter times.
"You're looking like a tool, not a baller. you're acting like a chick. Why bother? I can find someone way hotter with a bigger .. weeeell." Kiss N' Tell, Ke$ha
I think I've heard bits of her on this late night show I used to watch back when I had a TV. I think on BBC America (though I also think not), just comedians from around the world.
I just reheard her on a podcast of sorts called Chortle Laughing Stock. Really its jut takes from various comedians acts. And I finally heard this one.
Gina Yashere from my exposure here is of Nigerian ancestry but is British. Sounds like a man at first until you (quickly) get used to her voice and has a comedy album out called "Skinny Bitch."
Go youTubing here but be sure to check out her Tonya on the Lenny Henry Show bits, like this one.
Cake, "Short Skirt, Long Jacket"
I want a girl
With a mind like a diamond
I want a girl
Who knows what's best

I want a girl
With shoes that cut
And eyes that burn
Like cigarettes

I want a girl
With the right allocations
Who's fast and thorough
And sharp as a tack

She's playing with her jewelry
She's putting up her hair
She's touring the facility
And picking up slack

I want a girl with a short skirt and a lonnnng jacket……

I want a girl
Who gets up early
I want a girl
Who stays up late

I want a girl
With uninterupted prosperity
Who uses a machete
To cut through red tape

With fingernails
That shine like justice
And a voice that is dark
Like tinted glass

She is fast and thorough
And sharp as a tack
She's touring the facility
And picking up slack

I want a girl with a short skirt and a long…. long jacket

I want a girl
With a smooth liquidation
I want a girl
With good dividends

And at the city bank
We will meet accidentally
We'll start to talk
When she borrows my pen

She wants a car
With a cupholder arm rest
She wants a car
That will get her there

She's changing her name
From Kitty to Karen
She's trading her MG
For a white Chrysler LeBaron

I want a girl with a short skirt and a long jacket
I haven't had a TV for about two years. I used to watch the Conan O' Brien show in its original time slot after The Tonight Show with Jay Leno, which I never watched.
In fact, I almost watched T-COBS from the beginning. I have the fifth year anniversary show recorded on VCR. It personified off-the-wall in a corporate setting. Controlled chaos. It was original. When I watched it every now and then it was crazy, it was a mind warp that you had to adjust to to get back into it. It was the anti-Leno.
And today, faced with the idea that NBC will move Jay Leno back to the Tonight Show time slot (but not IN the Tonight Show) Conan says thanks for paying me, but you're kinda fucking up right now and I don't want to be a part of it.
Or in his words:
People of Earth:

In the last few days, I've been getting a lot of sympathy calls, and I want to start by making it clear that no one should waste a second feeling sorry for me. For 17 years, I've been getting paid to do what I love most and, in a world with real problems, I've been absurdly lucky. That said, I've been suddenly put in a very public predicament and my bosses are demanding an immediate decision.

Six years ago, I signed a contract with NBC to take over The Tonight Show in June of 2009. Like a lot of us, I grew up watching Johnny Carson every night and the chance to one day sit in that chair has meant everything to me. I worked long and hard to get that opportunity, passed up far more lucrative offers, and since 2004 I have spent literally hundreds of hours thinking of ways to extend the franchise long into the future. It was my mistaken belief that, like my predecessor, I would have the benefit of some time and, just as important, some degree of ratings support from the prime-time schedule. Building a lasting audience at 11:30 is impossible without both.

But sadly, we were never given that chance. After only seven months, with my Tonight Show in its infancy, NBC has decided to react to their terrible difficulties in prime-time by making a change in their long-established late night schedule.

Last Thursday, NBC executives told me they intended to move the Tonight Show to 12:05 to accommodate the Jay Leno Show at 11:35. For 60 years the Tonight Show has aired immediately following the late local news. I sincerely believe that delaying the Tonight Show into the next day to accommodate another comedy program will seriously damage what I consider to be the greatest franchise in the history of broadcasting. The Tonight Show at 12:05 simply isn't the Tonight Show. Also, if I accept this move I will be knocking the Late Night show, which I inherited from David Letterman and passed on to Jimmy Fallon, out of its long-held time slot. That would hurt the other NBC franchise that I love, and it would be unfair to Jimmy.

So it has come to this: I cannot express in words how much I enjoy hosting this program and what an enormous personal disappointment it is for me to consider losing it. My staff and I have worked unbelievably hard and we are very proud of our contribution to the legacy of The Tonight Show. But I cannot participate in what I honestly believe is its destruction. Some people will make the argument that with DVRs and the Internet a time slot doesn't matter. But with the Tonight Show, I believe nothing could matter more.

There has been speculation about my going to another network but, to set the record straight, I currently have no other offer and honestly have no idea what happens next. My hope is that NBC and I can resolve this quickly so that my staff, crew, and I can do a show we can be proud of, for a company that values our work.

Have a great day and, for the record, I am truly sorry about my hair; it's always been that way.

Yours,

Conan